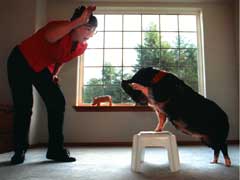 "Potbellied Pig Behavior and Training" is the first and ONLY book completely devoted to the behavior and training of pigs. It is book-bound, and has beautiful color pictures. It is a MUST reference for any pig owner! Potbellied pigs are often misunderstood pets. They have grunted their way into Priscilla Valentine's heart, and undestanding their behavior quirks is a passion of Priscilla's.
Priscilla has trained her pigs to be World Potbellied Pig Trick Champions, an unheard of four times. No one else can make such a claim. Her potbellies have also taken top honors in obedience classes, for years. Because her pigs have been beloved house pets for over a decade, she is familiar with common pet behaviorial problems, and what to do about them.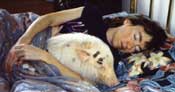 Her book addresses such problems as rooting, destructiveness in the house, litterbox training, nipping, and boredom. She describes her own training method, Pig Programming, that made her pigs national stars in the entertainment world. In addition, she has a ten-step program to discourage aggressive behavior in house pigs. She also addresses over 40 of the most common pet pig problems in a handy A-to-Z section. It includes problems such as traveling with pigs, pigs refusing to go out in bad weather, integrating a new pig, taking a pig to a vet, bathing pigs, zoning, chewing, overeating, etc.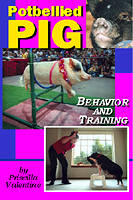 The potbellied pig training bible has already received rave reviews from both pet owners and national potbellied pig publications. The pictures are to die for, and the behavior modification methods appear to be successful in most cases.
The book is available via internet sales, a few places are listed below. This comprehensive book is almost 200 pages long and has both color and black and white photos. It is a fine reference for both pig owners and people considering buying a pig.
BARNES AND NOBLE LINK TO ORDER THE BOOK
AMAZON.COM LINK TO ORDER THE BOOK
Note from webmaster: Many places on the internet are charging outrageous prices for this book because they know the owners have passed away and the book is so popular that it is selling like hotcakes. Please check around carefully before purchasing this book online. You should not be required to pay more than the publisher's price of $29.95. If you have trouble locating it, E-Mail the webmaster and perhaps we can help.