By Amanda Arthur
The Daily Times-Call
LONGMONT - Hundreds of spectators went hog wild at the Boulder County Fair on Sunday as they watched the Valentines' Performing Pigs strut their stuff.
Steve and Priscilla Valentine, of Seattle, Wash., travel the country with their five "incredible porkers," surprising crowds with the intelligence of their trained pigs.
The couple has kept pigs as pets for 12 years, and if they play their cards right, Priscilla Valentine said, the swines can earn a special reward - their own room in the house.
With their snouts held high in the air, the troop - Nellie, Snort, Hambone, Tangerina and the Duchess of Pork, known as "Porky" - jumped through hoops, played their favorite sports and bowed for the crowd as hoards of children cheered them on.
"Snort! Snort! Snort!," the crowd chanted as the 2-year-old Asian miniature pig sought out a pair of chopsticks when asked which kind of eating utensil an Asian pig would use.
The crowd erupted when Porky, 5, a silver miniature pig, hung "16," - as pigs have 16 toes - riding a skateboard across the stage.
And when she performed her signature "ham dunk" while playing her favorite sport, children held their arms high, celebrating her score.
But the pigs don't just enjoy sports, Priscilla Valentine said.
Three-month-old Tangerina earns her keep at home in Washington by mowing the lawn, a skill she demonstrated on-stage.
Eight-week-old Hambone melted the hearts of fair-goers as he made his second-ever professional appearance Sunday.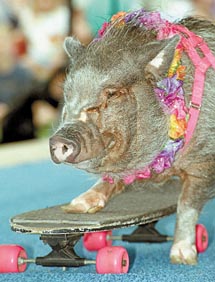 Porky, described as the Duchess of Pork, skateboards Sunday during the Valentines Performing Pigs show at the Boulder County Fair. Times-Call photo by Lewis Geyer.
"He started his career yesterday," Priscilla Valentine informed the crowd as the tiny pig, wearing a bright red collar, scampered across the stage.
But the "star" of the show, Nellie, the world's pet pig champion, has the ability to wow crowds with a repertoire of 100 different tricks, Priscilla Valentine said.
Nellie has made appearances on the David Letterman show and Animal Planet.
Children giggled as Nellie placed her allowance, an oversized coin, into a large piggy bank.
And adults and children alike squealed with laughter when the pig retrieved a piece of mail from a large mail box. The letter read, "Eat Beef."
Andrew Bowman, 9, of Longmont said he didn't think when he woke up Sunday morning that he'd see a pig ride a skateboard.
His friend Daniel Russell, 10, of Longmont agreed and said he might find himself a bit upset if a pig were able to ride a skateboard better than him.
The pigs perform three times a day. They can be seen today at noon, 3:30 p.m. and 7 p.m. on the Midway.
Amanda Arthur can be reached at 303-776-2244, Ext. 215, or by e-mail at aarthur@times-call.com.